First Annual

World Meningitis Day
April 25th 2009
Today is the very 1st Annual World Meningitis Day! On this day, we remember the lives lost & dramatically affected by meningitis. We should also use this day to spead some awareness to others!

Things you can do:
Take 10mins to share our story with atleast one person.
Visit a few websites dedica
ted to Meningitis Awareness.
Light a candle at 7pm (your time) in memory of the lives lost to Meningitis so that a wave of light goes around the world.

Our plans for today include a balloon release to remember Landan & the others who lost their life to Meningitis, participate in the 'around the world' candle lighting & spreading awareness by sharing our story with one new person.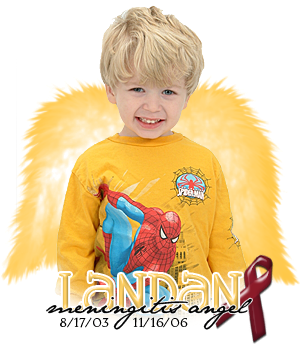 A few friends have taken time to spread some awareness through their blogs! Marisa & Kerin (myspace blog) Thank you ladies so much!


I'll post our pictures later from the balloon release!