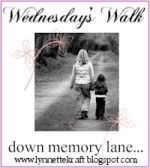 This is my first time participating in "Wednesday's Walk" on the
Dancing Barefoot on Weathered Ground
blog.
This blog will be about my sweet angel, Landan.
He was such a charismatic boy, his mere presence would light up a room! He was loved by so many & is now loved by many - across the world! It's quite touching to our family!
But today I want to remember his "photography skills" It was always a pleasant surprise to find these "self photography" images for Landan on my camera. Now it's even more of a treasure. He left me with sweetest pictures. The images that follow, aren't just self portraits of Landan, but things about him I don't want to forget.
I remember countless nights watching Landan sleep, thanking God for giving me this precious little boy that I love with all my heart. Asking God to please never take him from me & to let me go before him. I looked upon him in amazement that this handsome little boy is MY son!
I miss watching him sleep.
Landan LOVED video games! And man-o-man was he great at them! We were always amazing by how smart he was! He'd watch someone do something, and you could almost see the gears turning in his head figuring things out. His favorite video game was "Mario Sunshine" for the GameCube. In the beginning he'd call me in the bedroom to do certain things for him. But soon got to a point where he didn't need his Mama to help him. He was better than me at that game! lol He'd just go right in the bedroom, turn on the GameCube & get his game started!
I miss watching him play.
Self portrait of Landan below, how precious. He's such a goofy little guy.
I miss finding his self portraits when I upload camera pictures.
Another photo, courtesy of Landan. It's of his sweet little foot. Man I loved to munch on those sweet little feet.
I miss everything from the tootsies on your feet, to a single straind of hair on your beautiful little head.
I miss your crazy blonde hair! It grew so quickly & you still had the sweet little curls at the ends of your locks.
I miss running my fingers through your blonde hair.